Big Bend
Big Bend National Park is a rather large park, even for Texas. It is more than 800,000 acres. To give you an idea of the size, it is 29 miles from the entrance to the ranger station. From there you turn left and drive an additional 22 miles to the campground. The park is bordered on two sides by the Rio Grande; the border between the US and Mexico.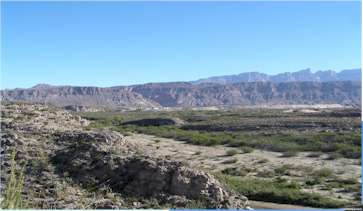 Most of the park is typical high desert terrain. However, there are several peaks rising to nearly 8,000 feet. The Chisos Mountains in the background of the picture are wholly contained within the park. This view is to the west from the campground.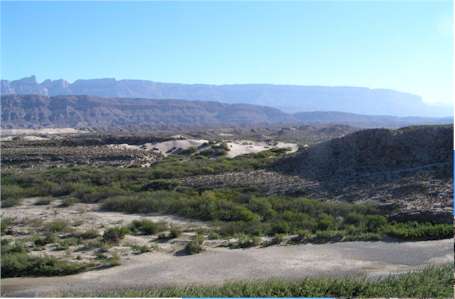 This view is to the south from the campground. The river in the foreground is the Rio Grande. Everything beyond the river is in Mexico.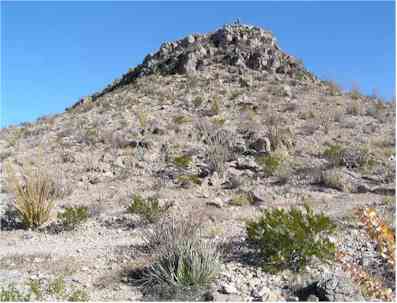 This is a hill less than half a mile from our campsite. The previous two pictures were taken from the top of this hill.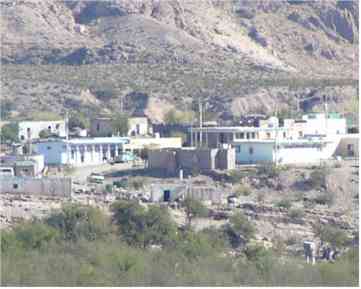 Across the river from the park is the small Mexican village of Boquillas. When I visited the park some years ago, the villagers would come across in rowboats and take you across to the village. However, since 9/11 things have changed. The villagers are no longer allowed to cross the river. There are notices posted in the park to the effect that Boquillas is not an official entry point. If you cross the river, you will not be allowed to return except through an official entry point; the nearest of which is more than 100 miles away. It is too bad such changes are felt to be necessary.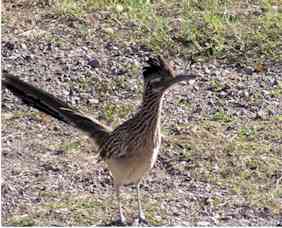 We had several interesting visitors to our campsite. One of the first to welcome us was this roadrunner. He and his pals walked right into and through our site. There was no sign of the coyote. Wile E Coyote, that is.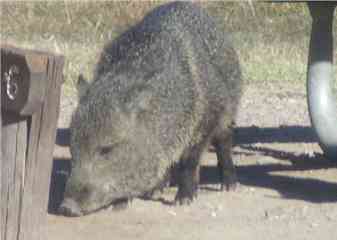 Another frequent visitor was this javalina. He and some of his buddies would stroll through the campground two or three times a day. We were told that they could get mean but the ones we saw were peaceful enough. It is hard to tell their size from a picture like this. To give you an idea, this one will weigh about 40 to 50 pounds.
As we leave Big Bend we also say goodbye (or I should say Adios) to Texas; at least for a while. Next stop Arizona.