East Texas Parks
We stayed in several parks in the Port Arthur area. The first was Umphrey State Park. There was nothing particularly noteworthy about the park itself except that it seemed to be a state park that was run by the county. We checked into the campground in a bait shop across the highway from the park. The campground was a blacktop parking lot with on posts on the center island. We did see two interesting things there. The first was a group of four porpoises in the harbor. They appeared to be feeding but I don't understand why they chose to do so in such a dirty harbor. The other interesting sight was a Brown Pelican. We didn't know what it was until later. Apparently they are an endangered species and are very rare.
Next we stayed at Martin Dies, Jr. State Park. It probably would be of great interest to someone who liked swamps. We do not.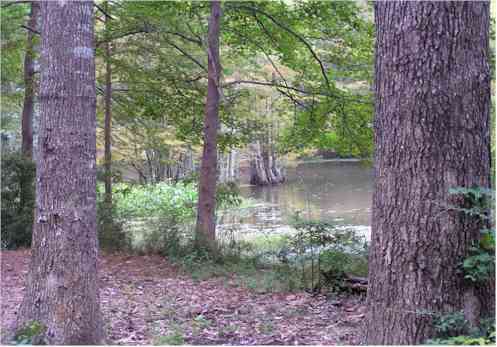 Here is a view from our campsite. Except for a lack of Spanish Moss, it could be the location where The Creature from the Black Lagoon was filmed.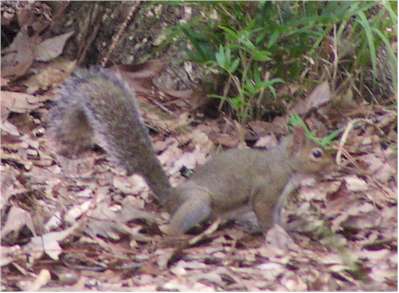 We did have one congenial visitor in the campsite.
We also stopped in the Big Thicket National Preserve. On one of the self guided tours, we walked down a short nature trail. One interesting sight was the plant shown below.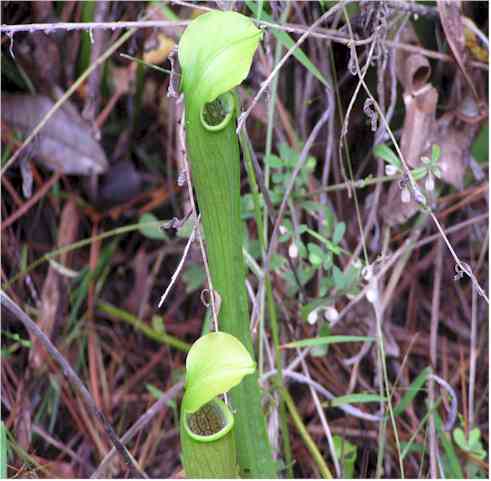 It is one of four carnivorous plants found in the area. It seems that here the plants eat the animals. This variety is called Sarracenia (Pitcher Plant).
The nicest park we found in the area was the Sandy Creek Corps of Engineers Park. The campground was on a large lake that was not a swamp. We did, however, see an alligator swimming in the lake. The campground was well built and well maintained. The sites were large, shaded and somewhat private. The camp host was a delightful old guy we enjoyed very much. Once when Marilee asked if we could do something or other, he replied "Darlin' whatever you like just tickles me pink.."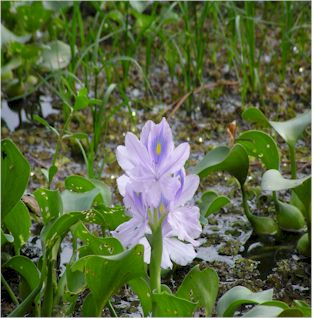 There were large beds of some kind of water flower along the edge of the lake. This is called a Louisiana Iris.