Friday the Third of October in the Year 2003
We had arrived and settled in at the Escapee's headquarters and campground. The club has over 30,000 active members. The city of Livingston has a population of a little over 5,000. I doubt very much if the population of the entire county exceeds 30,000. So the club is very well known and accepted. This is an unusual campground in that more than half the space is taken up by permanent residents. These sites vary from a concrete RV pad to a two story log house. It is also the only campground I have ever seen where you pay as you leave rather than in advance.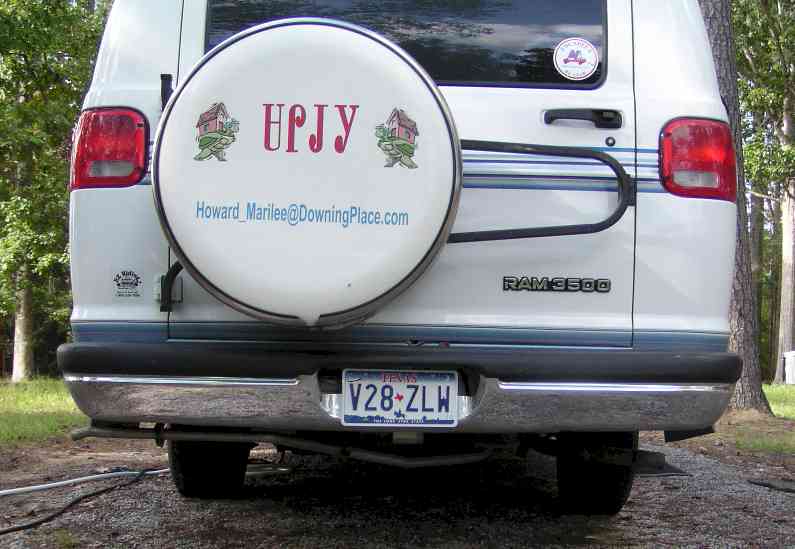 Our next task was to become Texas residents. To do this we needed a local bank account (which we already had), have our RV registered and tagged here, get Texas drivers license and register to vote. It turned out to be very simple. We completed these tasks before lunch. We are now full-blown Texicans. Note the license plates on the back of the RV.
Our adventure can now begin; almost. GDAIS Human Resources was supposed to mail my final check and a check for my left over vacation time to my Livingston address. My final check was deposited electronically at my Bloomington bank and the vacation check had not showed up yet. My retirement pay did show up in the Livingston bank but it wasn't supposed to start until next month. So now we have to come back to Livingston in about 10 days to take care of this. We will check out some of the local sights and then come back.