Mustang Island State Park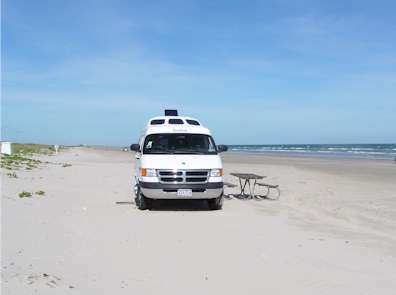 This is a small park about 40 miles north of Corpus Christi. We camped for two days right on the beach. This was our first time on the beach and we were a little tentative. However, it went well except for the one time I got stuck in the sand. A Ranger came along and offered to pull us out but I managed to dig us out before he got back with a chain. You can see the high tide line about 15 feet from the RV. Living on the beach was great fun but it took several days to clean the sand out of everything.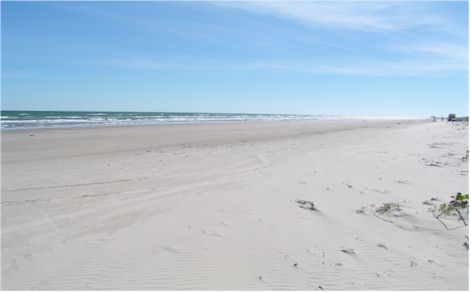 There were few people in the park. Here was our nearest neighbor; another RV about 100 yards down the beach. It was an old bus conversion done in a junkyard. It looked like it was inspired by a Rube Goldberg cartoon.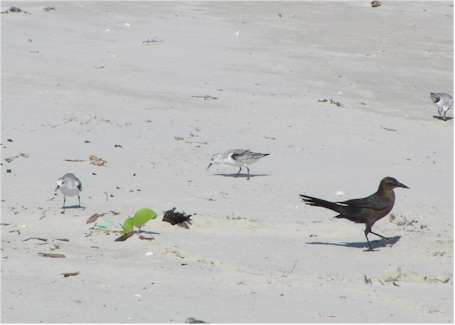 We did have frequent visitors. They were friendly enough but they were sadly lacking in small-talk skills. The smaller birds are sandpipers (more specific, sanderlings, I think) and the larger one is a grackle.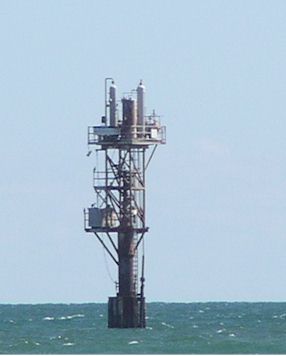 There were several of these towers off shore. I never found out what they were. To me they look rather flimsy to be sitting out in the Gulf.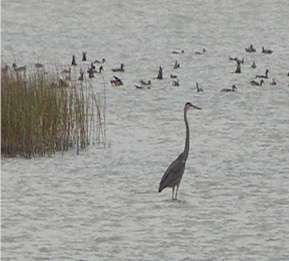 Near the park was the Port Aransas Birding Center. It is difficult to find (fortunately, it was listed in the GPS) but well worth the trouble. Shown here is (I think) a little blue heron. There were at least a dozen other species to be seen.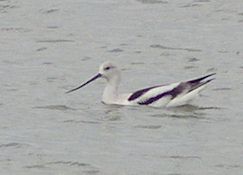 This strange looking little fellow is an American Avocet.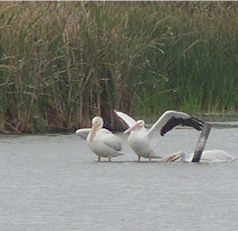 These are white pelicans. They are huge, standing about 5 or 6 feet tall.
We also took a tour through the Aransas National Wildlife Refuge near Rockport. We saw two whooping cranes that are slowly recovering from near extinction. At any rate we were told that's what they were by a visiting bird watcher. They were over a mile away and I couldn't see enough detail to positively identify them even through a 60x telescope.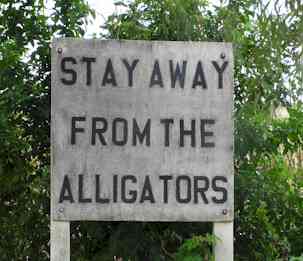 Everywhere we go in this part of Texas we are given this advice. In one place we were told not to annoy them. It is my fervent hope that the alligators are being given the same advice about me.