Myakka State Park - Florida
This is a small park just north of Tampa. The campground was crowded and the sites were small and open. There are however several plusses that make this park worth visiting. One plus is the airboat and tram tours that are available in the park. Both are excellent and inexpensive. Another item of interest is that we saw more alligators than anywhere else in Florida. The General Store even sold Alligator Stew but I didn't try it. It is said to taste like chicken and I don't like chicken. We were also told that there are a large number of wild pigs. The pigs are very destructive and a contract has been let to a trapper to remove at least 1000 pigs per year from the park. Apparently, the park service doesn't care what the trapper does with the pigs as long as he removes them from the park. What does one do with 1000 wild pigs?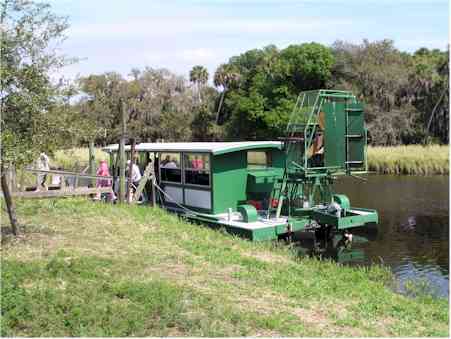 This airboat holds 70 passengers and is claimed to be the largest airboat in the world. It was not an exciting ride since its maximum speed is about 6 knots. An airboat is required for the tour because most of the lake is no more than 2 or 3 feet deep.
We were cautioned to be careful in standing up while the boat was in motion because of the danger of falling overboard. We were reminded than that it is against the law in Florida to feed the alligators. I wish to state for the record that I am still a law abiding citizen.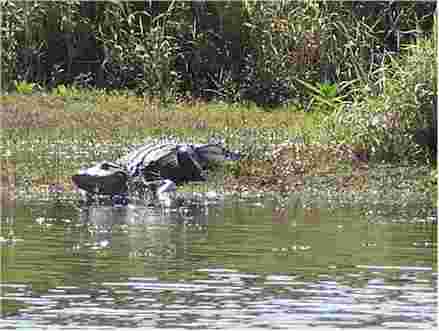 This little guy was just entering the water to find out what all the disturbance was about. At one point we saw as many as eight alligators at one time in the water near the boat.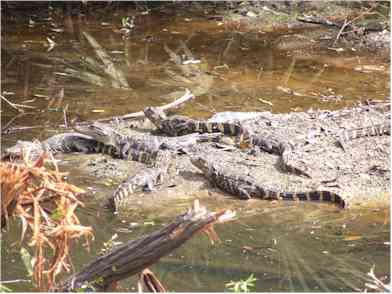 These are babies only about 16 inches long. They still have the camouflage stripes to help protect them while they are small. Once they grow a little larger, there are no predators around that will bother them.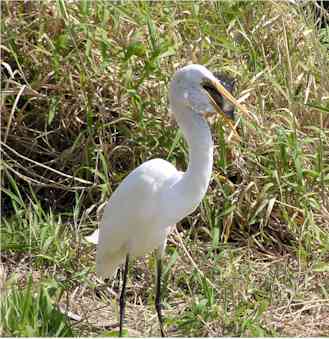 The fishing was good for this Great Egret. He eventually worked the fish around until it was lined up with his throat and swallowed it whole. It took a while but he seemed pleased with the result.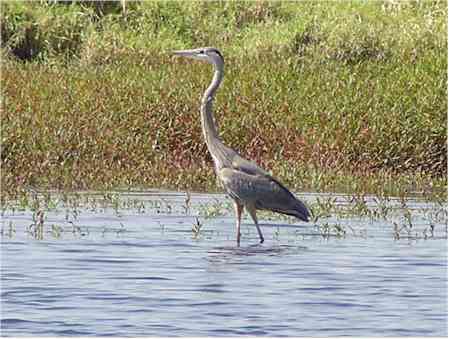 This Blue Herron didn't seem to pay any mind to us or to an alligator about 20 feet away. The guide told us that while the alligator wouldn't mind a bird lunch, he knew it wasn't worth the effort in chasing because the birds were too fast.