Nevada
We crossed into Nevada from California. on I-80. The top of the pass through the mountains is called Donner Crest and is about 8000 feet above sea level. As the sun was going down, the view was spectacular; especially in the snow. There was an accumulation of 3 inches before morning. Fortunately for us, it was just starting and was only flurries. It was cold. We were in a hurry to get down to a lower altitude where it would be warmer. I was not aware that very little of Nevada is at a lower altitude. We drove nearly to Las Vegas before we got below 5000 feet.
The mountains here are beautiful; very high and rugged. It took only a little imagination to see most anything in the rock formations. I suppose that everyone has been on a guided tour at one time or another where the guide pointed out some formation that looked exactly like a witch, an Indian brave, or an old man.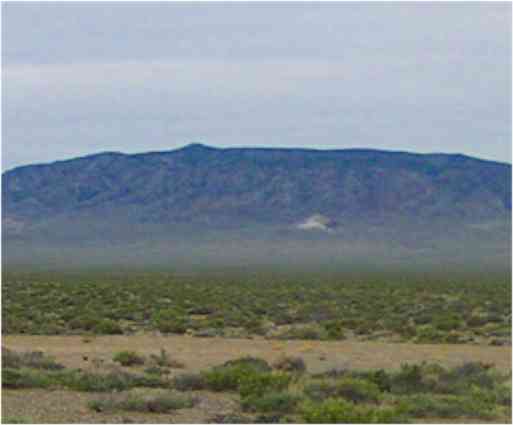 From the highway, we saw this house; a white house with a red roof. That's common enough in this part of the country but this one looked rather strange because it seemed to be built on a slope.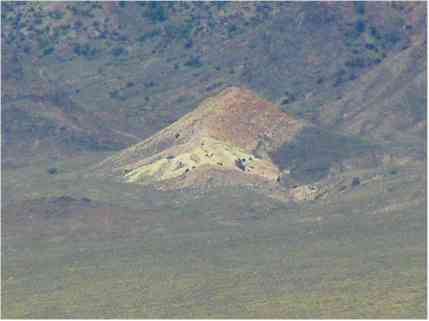 The telephoto lens of my camera explained the strangeness. A sloping rock face is quite in order.
When we got near Las Vegas, the weather warmed up enough even for me. However, tragedy struck. My computer got very sick. I took it to the doctor at Best Buy. He concurred that my computer was indeed very sick. His prognosis was hopeful but there would be a 2-4 week recovery period. I left my dear friend in his capable hands and proceeded to drown my sorrows with gambling and free drinks at Laughlin.
Between free drinks, we stepped out onto the veranda behind one of the casinos. The veranda overlooked the Colorado River and was next to what must be the world's greatest fishing hole.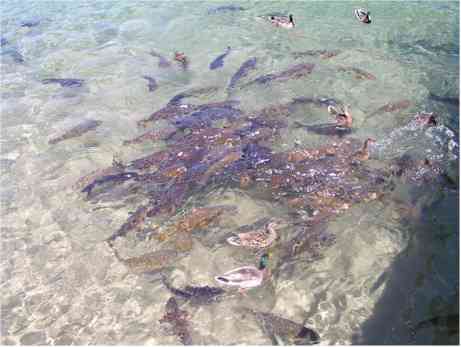 The catfish were so thick that you can see two of the ducks actually walking on the fish. Most of the fish were about 30 inches long. You can appreciate the size of the fish compared to the size of the ducks.
In the little town of Pahrump we saw a sign advertising an art museum. It looked interesting so we set out to find it. It turned out to be several miles out of town and five miles off the highway.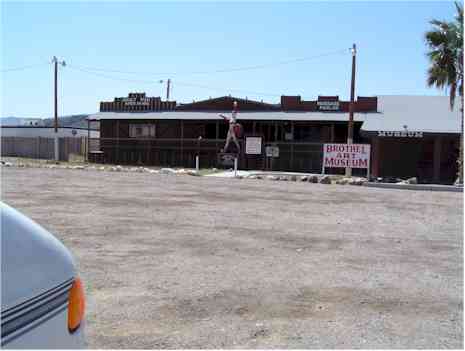 It turned out not quite what we were expecting. The "art" was apparently in the girls rooms. I wonder if the term "museum" referred to the ages of the "girls"?
Alas, I'll never know. Marilee wouldn't go in and I was not about to go in alone. My momma didn't raise no foolish children.
Neither Marilee nor I are big time gamblers. Our big night at the casino cost us four dollars total and included four free drinks. Even going out to dinner is not expensive. The nightly special at one casino restaurant is a ten ounce prime rib dinner for $4.95. One difficulty with this restaurant however is that the desert menu included cheesecake. I figured that the tiny slice usually served would not be too hard on my diet. What showed up was was a wedge five inches thick weighing about three pounds. I shared it with Marilee and still couldn't finish my part. I like Nevada.