San Antonio
We went to San Antonio partly to see the Alamo but also to see a friend of Marilee's. They corresponded by email but hadn't seen each other in years. They, and I, spent a very enjoyable and relaxing day.
I took no pictures at the Alamo. Firstly because it is not allowed in parts of the site but also because pictures of it have become very familiar to me over the years. Pictures are familiar but I had never seen it "live", so to speak The place evoked strange feelings; perhaps of power or determination. I am not sure what. I heard no stories being told of ghosts but it would not surprise me if there are such stories.
The Alamo was originally constructed as a mission and later converted to a fort. As a mission, it was beautiful. As a fort, it was terrible. The dedication and bravery of Colonel Travis and his men was far greater than most people realize to have held out as long as they did. The tour guide said that Santa Ana considered it a political objective more than a military one. However, his defeat a short time later at the Battle of San Jacinto was decidedly military and paved the way to the establishment of the Republic of Texas. I am a brand new Texan but a proud one.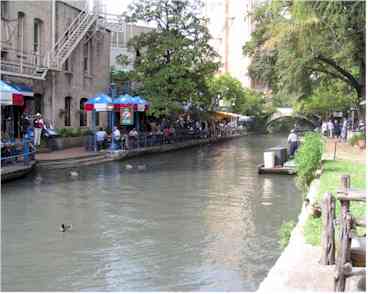 The other place I wanted to see in San Antonio was the River Walk. I had heard of it for years but had never seen it. It was much the way I had pictured it except that it sits down below the level of the surrounding streets. This helps to isolate it from the city and emphasizes its beauty and uniqueness. We had a very pleasant walk and lunch at one of the sidewalk cafes. It was a weekday and not very good weather so it was not crowded. We were however nearly run down by people running along the sidewalk. We later learned that they were in some sort of scavenger hunt. I would like go back again. This time on a weekend or evening. I am sure it would be much more exciting and also I know there is some great jazz music to be heard then.
Another pleasant surprise was the public transportation system. Across the street from the RV park where we were staying, we caught a bus downtown (in our case, a distance of about 12 miles) for 80 cents each . Once you get downtown, there is a trolley system that covers the entire area. By using transfers you can tour the entire area, stopping as many times as you like, for one fare of 50 cents.