Turquoise Highway
The Turquoise Highway leads from Santa Fe to Albuquerque. It is a good road and much more an enjoyable ride than going by Interstate 25. If you are a shopper, there are a great many small shops along the way.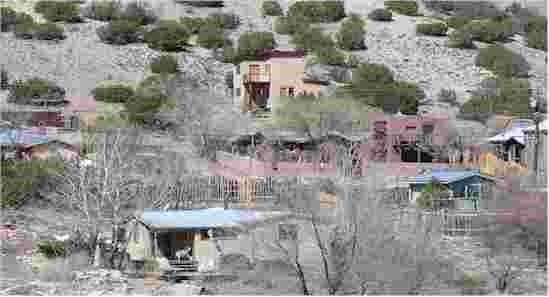 One stop along the way is Madrid. Off the highway, at the base of the mountain, can be seen the remains of the original mining town dating from the early 1800s. The mineral being mined was coal. The town boomed for a while supplying coal to the Santa Fe Railroad. The manager of the mine built a power plant and supplied electricity to all the inhabitants of the town. With such cheap power, the resident created very elaborate light displays for Christmas. These light displays were so elaborate that airliners were diverted to fly over Madrid. The last train hauling coal departed in 1959 and Madrid became a "ghost town".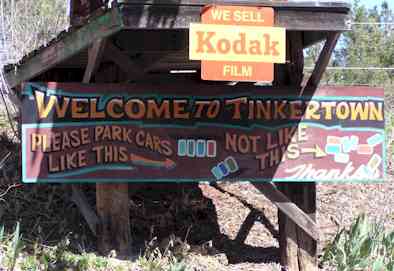 Another interesting stop on the Turquoise Highway is Tinkertown. This is a display of the work of Ross Ward. Displayed are miniature figures and scenes carved from wood. Many of the figures are animated.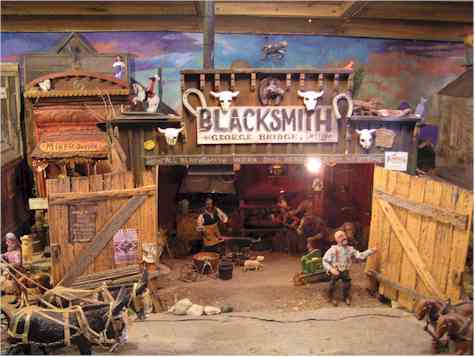 This blacksmith shop was one of perhaps 50 scenes.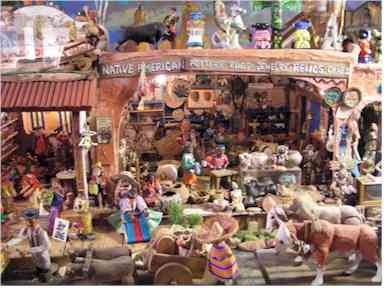 This was one of the more elaborate scenes.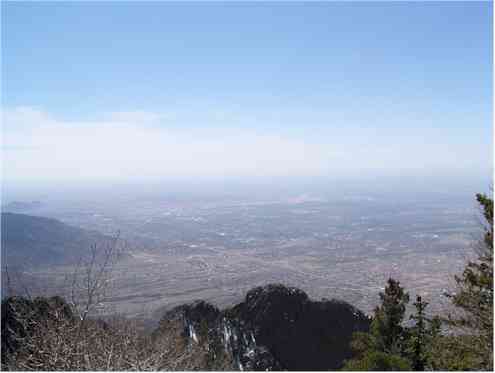 Near the end of the Turquoise Highway, a side road leads up to Sandia Crest. A sign at the top says that the altitude is 10,732 feet. The town that can be seen far below is Albuquerque.