Washington-Oregon
We traveled down Highway 101 through Washington and Oregon. The drive is beautiful but tiring. The road is all hills and very narrow. Twenty feet is considered a long straightaway. The weather was very consistent. It was cold and foggy in the morning and cool and sunny in the afternoon. Unless of course it rained.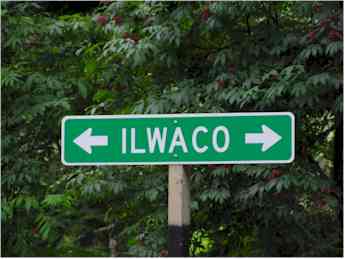 We decided to stay in a State Park campground in Washington. We had some difficulty in finding it. Signs like this one weren't a lot of help.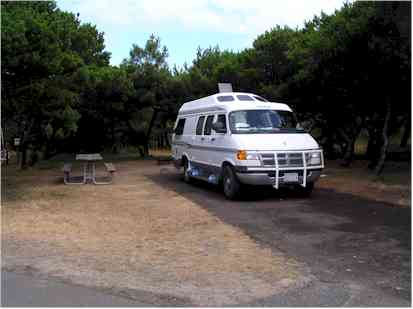 The Pacific Beach State Park, when we finally found it, was very nice. The campsites were large and well shaded. It was a very pleasant change from the asphalt parking lots we had been camping in across most of Canada.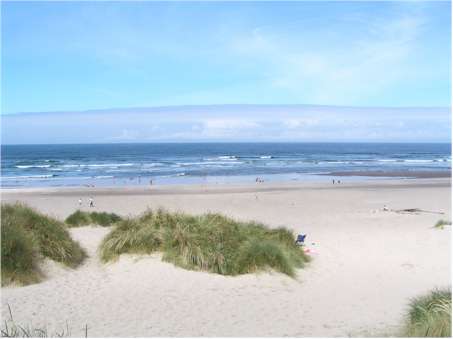 The beach at this state park was very nice and certainly not crowded. The air temperature was in the 70s but the water temperature was about 60. This water would be cold even in a wetsuit.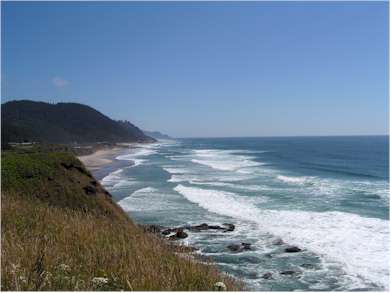 This is typical of most of the coastline of both Washington and Oregon. The picture was taken in the afternoon. On a typical morning, you couldn't see the ocean for the fog.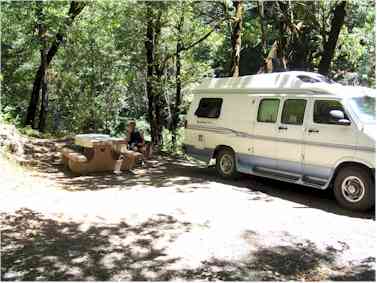 In Southern Oregon we found this Bureau of land Management Campground. The campsite was on a narrow plateau at the bottom of a steep, narrow road. I couldn't get out the driver's door because there is a 20-foot drop-off about a foot from the wheels on that side. But it was a great place and the wild blackberries growing all around it were ripe and very good.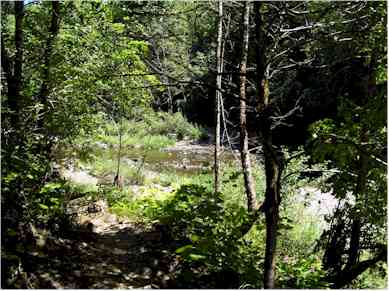 This is a creek that was just below our campsite. In the late 1800s there was a gold mining camp about a mile upstream of this spot. There was not much gold and the camp only lasted a couple of years. There is nothing left of it now.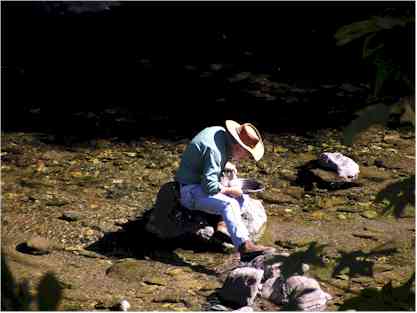 Since there was gold in "them thar hills", I decided to try my hand at finding some of it. I didn't find any.
The campground host told us that two guys had taken out almost eight ounces a few weeks before. That sounded like the fish stories I heard in Alaska.