Our New Rig
7/5/2011
Our new rig is a 2011 Winnebago Vista. It is a Class A but it is only 31 feet long. That makes it larger than our old RV but not by much.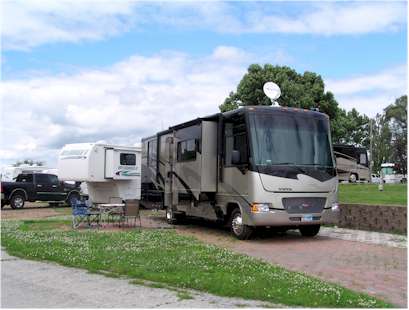 It's only a little bigger than our last one about one foot wider and seven feet longer. It has more storage compartments than the old rig. After moving everything we own into it, I still have one completely empty compartment. There is, however, an unbreakable law that says that possessions will expand to fill all available storage space.
| | |
| --- | --- |
| With slides on both sides, our living room is big enough to hold a dance in; at least if only Marilee and I show up. With the slides in, the floor reduces to the width of the rug you can see in the middle of the floor. There is plenty of room to move through the coach with the slides in but one serious problem did surface. The first night we spent in Walmart's parking lot we discovered there is one kitchen cabinet drawer that cannot be opened when the slides are in. Marilee was making supper when we discovered this. Unfortunately, we had chosen this drawer to keep all the silverware in. Marilee decided that it was my day to cook so we went out to a nearby restaurant for supper. | |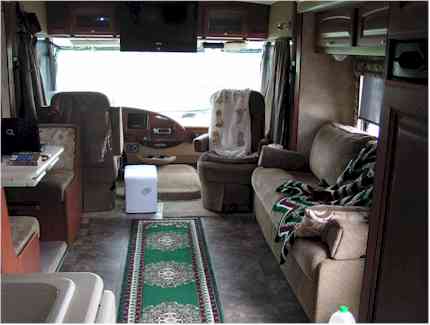 This is another view of the living area. The rug you see is not standard equipment. We bought it in a very exclusive store in Grove, Oklahoma called Cheapo Depot. It was one of their more expensive items at $20. Marilee made the afghan on the sofa to match the rug and add more color to the room. The afghan cost about the same as the rug and was more much difficult to acquire. It did, however, keep her hands occupied as we traveled.
| | |
| --- | --- |
| This is the layout of our new rig. I shamelessly stole this picture from the Internet. Well, not entirely without shame, the quality is rather poor. | |
We bought the rig in Austin, Texas and have gotten as far as Odessa, Missouri with a side trip to Minneapolis. From here we go to New Jersey since my son and granddaughter have the misfortune to live there. After that, we will head back out West.