WELCOME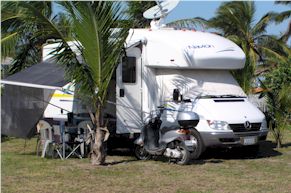 New rig but same old plan; to see as much of this beautiful country as we can. The counter below will tell you how long we have been on the road and we have loved every second of it. (Your browser may tell you that it has blocked scripts from running. If so, click on the warning and select "Allow Blocked Content" and the counter will work.)
If you would like to know where we are as you read this, click on this link. Beneath the map that appears, look for Member #1696.
Now go ahead and take a look at this part of our Journey. If you enjoy it even a fraction as much as we did, you will have a wonderful time.
Click on the items in the Table of Contents at the left to read of the wonders of our Journey.
If you have any questions or comments, please email us Here