Our New Home (Part-Time)
March 2014
We moved into our new, part-time home on March 6, 2014. This is where we will live in the winter when it is too cold for man or beast (I'm sure I must fit into one of those categories.) anywhere farther north of Yuma. Last winter the temperature in Yuma only dropped below 40 degrees a few nights and never got to freezing. The house gives us a little more elbow room when we have to sit in one place for three or four months.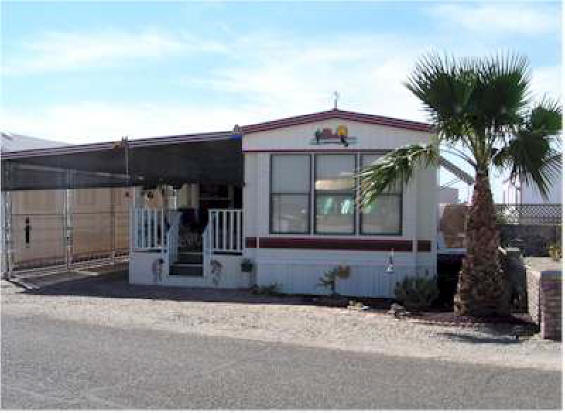 This is our winter retreat complete with palm tree. It is Lot 147 of the KOFA KO-OP Retreat.
The house came with a 2002 4-door Saturn and two bicycles. These, along with the Jeep we already have, solve any transport problems we might have. The house was left completely furnished including most of the household items everyone needs. The previous owners left for Holland with only what they could carry onto an airplane.
| | |
| --- | --- |
| The previous owner of the house was a retired, interior decorator from Holland. He claimed his grand-daughter had outgrown the wooden shoes that are hung on the house. He didn't say anything about the one he made the sailboat from. That he was a decorator can be seen in the attention to detail in the decor throughout the house. For instance, the inserts in the cornice trim in the living room and dining room were made from the same material as the living room drapes. | |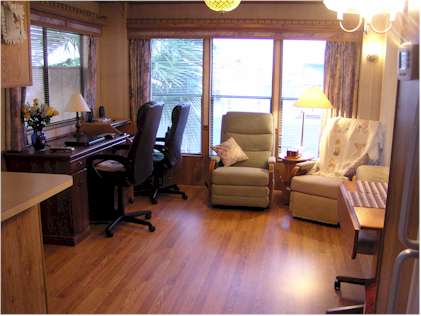 Here is the living room, complete with his and hers computers. Marilee and I share everything except for computers.
The laminated wood floor is a new modification. In a place where sand and dust are everywhere, it is much easier to keep clean than a carpet and, as Marilee often tells me, she is also retired.. It is also great for sliding across in your sock feet.
| | |
| --- | --- |
| The dining room. In case you haven't already figured it out. The living room, dining room and kitchen are all in one large room. Notice the inserts in the wooden panel above the window. They also match the curtains. A touch from our personal decorator. How does he think of these things, or why, you might ask. | |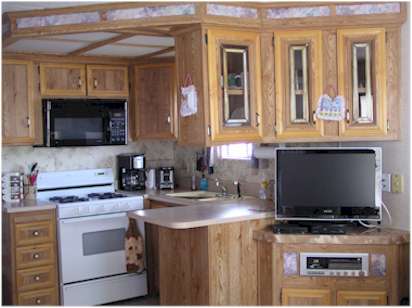 Here is the kitchen. It still seems a little strange to have full-sized appliances like the stove, refrigerator, and microwave after all these years using the miniature ones in an RV. The stove and microwave are great to handle a large pepperoni pizza. The refrigerator provides space for fresh fruits and vegetables. I should also mention, in the spirit of full disclosure, that the refrigerator also provides space for large amounts of ice cream.
The bedroom. The large closet is a welcome change from the RV. However, the mirror doors on the closet are not. It is difficult to imagine yourself still looking as you did when you were 25. When one wall of your bedroom is almost all mirror, it is impossible.

Marilee crocheted the bedspread while we were traveling. She has trouble just sitting and doing nothing. I could never understand why anyone would have such a problem.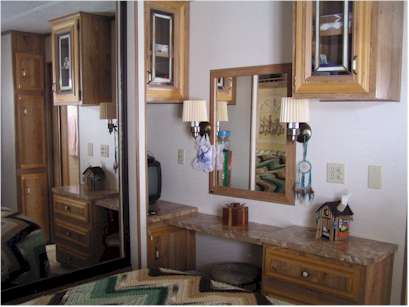 A vanity table complete with makeup mirror is a definite change from an RV. I think it is great. It gives me a much better chance of being able to get into the bathroom.
| | |
| --- | --- |
| This is a screened in porch sometimes called an Arizona room. It has detachable storm windows which should make it usable in the winter. It is not very usable right now since it is well over 100 degrees every day. I use it to do my exercises but only after 10:00 at night. It is difficult but I have tried very hard not to overdue the exercise and, so far, I have brilliantly succeeded. | |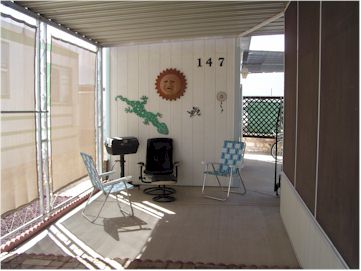 There is a covered carport running the length of the house with sun screening along the open side to completely protect the cars from the heat and light of the sun. At the end of the area is a patio set with chairs and a grill in an area that is always in the shade. We have made use of the chairs but so far I have not been forced to B-B-Q anything.
| | |
| --- | --- |
| The shed is well equipped. The previous owner left a complete set of tools; everything needed to take care of the house and yard. One piece of equipment not there is a lawn mower. There is NO grass and it is going to stay that way. There is in the shed an air conditioner and a refrigerator. I had just bought a new computer so my old one is available to install in the shed. As you can see, it is perfectly equipped as a man-cave. There was even a straw hat left for those times when I really must go out in the sun. Now, I wonder where I can find a microwave and a port-a-potty? | |
We got a little extra time to try out our new home. We ordered a new RV from the factory. The unit we chose is a Class B RV built into a Chevy van. Unfortunately GM decided to recall a number of cars and trucks, including the one our new RV was to be built into, in order to fix various problems. So the RV we ordered in March won't be ready until mid-July. We like our new home and it is very cheap to live here but we are very anxious to be on the road again. This is, after all, intended to be our home only in winter..